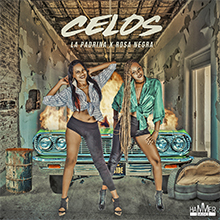 La Padrina & Rosa Negra – Celos
Celos (singolo)
Data Rilascio
LABEL
: Hammer Music
DATE
: Novembre 18 2017
COUNTRY
: World
FORMAT
: Digital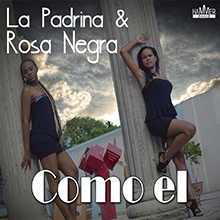 La Padrina & Rosa Negra – Como El
Como El (singolo)
LABEL : Hammer Music
DATE : Marzo 10 2018
COUNTRY : World
FORMAT : Digital

Biografia
Novembre, 10 2017
Hammer Music
Da un isola magica come Cuba dove ritmo, musica, sole, mare e profumi sono un tutt'uno nasce questo progetto formato da due artiste provenienti da esperienze e genere diversi tra
loro, ma con un percorso radio-televisivo importante nella loro terra "La Padrina & Rosa Negra" . La Padrina vero nome Ailin Villalon Cutino e Rosa Negra all'anagrafe Rosa Irene Duany Trutie', respirano musica fin da piccole crescendo in un ambiente familiare dove la musica e' la colonna sonora delle loro giornate in quanto i genitori di entrambe sono
degli apprezzati musicisti. L'iter nella crescita musicale segue le regole universali di qualsiasi artista voglia intraprendere questa carriera presenziando vari concorsi per poi far parte di band.
Desde una isla magica como Cuba donde el ritmo, la musica, el sol, el mar y los perfumes son un todo nacido, este proyecto esta' formado por dos artistas provenientes de diferentes experiencias y generos, pero con una importante trayectoria de radio y television en su tierra. Padrina y Rosa Negra . La Padrina verdadero nombre Ailin Villalon Cutino y Rosa Negra en el registro de Rosa Irene Duany Trutie ', respiran musica desde temprana edad creciendo en un ambiente familiar donde la musica es la banda sonora de sus dias ya que los padres de ambos son musicos apreciados . El proceso de crecimiento musical sigue las reglas
universales de cualquier artista que quiera emprender esta carrera asistiendo a varias competiciones y luego uniendose a la banda.
From a magical island like Cuba where rhythm, music, sun, sea and perfumes are a whole, this project is born of two artists coming from different experiences and genres, but with an important radio-television path in their land Padrina & Rosa Negra. La Padrina true name Ailin Villalon Cutino and Rosa Negra in the Rosa Irene Duany Trutie 'registry, breathe music from an early age growing up in a family environment where music is the soundtrack of their days as the parents of both are appreciated musicians . The process in musical growth follows the universal rules of any artist who wants to embark on this career by attending various
competitions and then joining the band.